WORKGROUP. DEVELOPMENT OF A DISCLOSURE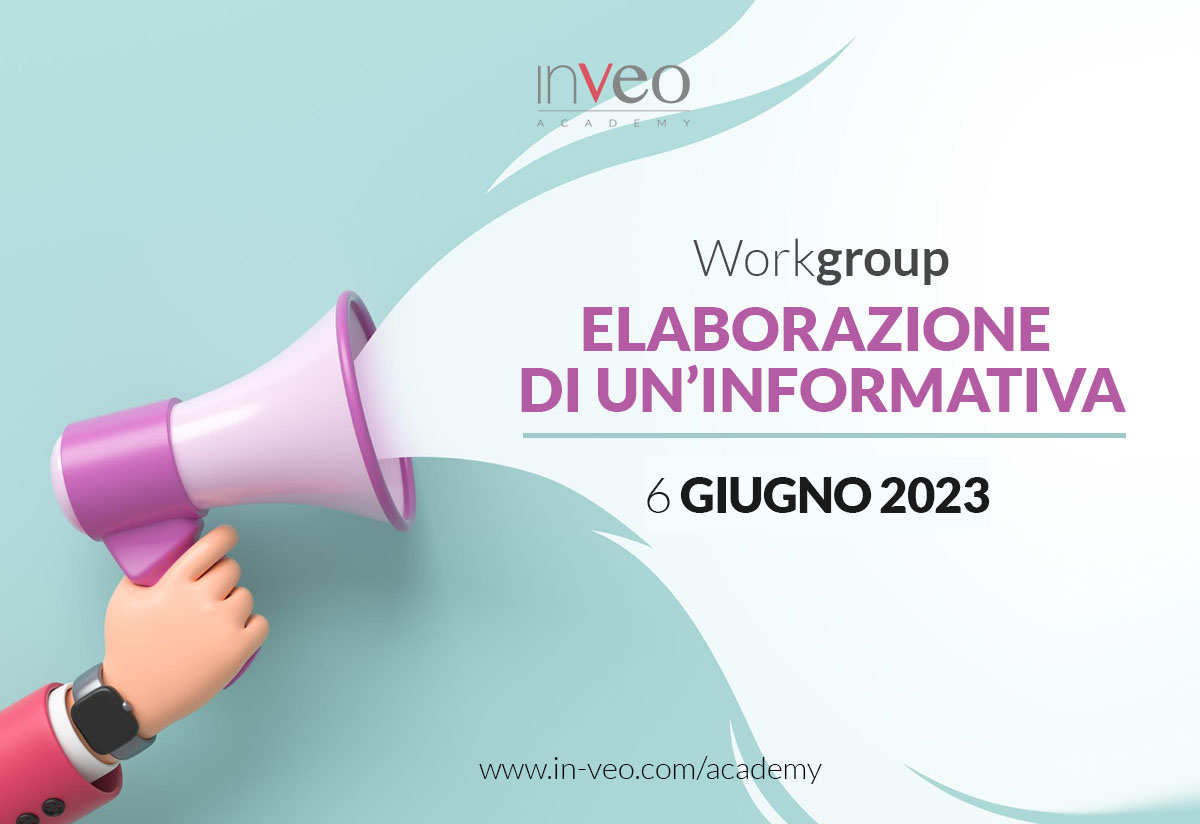 October 26, 2022
Exercise#1 10:30 | PAUSE 13:00-14:00 | Exercise#2 16:30
THE THEME
The information notice is the fundamental pillar of personal data processing for those who process the data and the exercise of rights for the data subject. Clarity, transparency, and accuracy are all required in order to provide every detail regarding the purposes, means, legal basis, methods, security measures taken, timing of processing, and much more.
Each disclosure is different in its own way, not duplicable, not universal; it possesses its own connotations depending on the range of action and requires careful upstream screening and mapping.
The workgroup is Inveo Academy's new formula for reaching out to professionals looking for lab-based, 100 percent hands-on training.
THE LABORATORY METHOD

The workgroup method is totally practical and is aimed at professionals who already know the rules of compiling a good disclosure. 
The operational session is divided into 2 sessions: the "rules of the game" will be explained, operational material from 2 case histories, mission statements will be delivered, and for each exercise, the group will be divided into virtual classrooms if necessary.
THE LABORATORY METHOD
You will be accompanied through the training by our Lead Auditors from Inveo Certification, professionals of absolute excellence on the document and operational level, with many years of experience in auditing and supporting SMEs and multinationals, who for the four-hour exercise, will be true data protection sparring partners.
TO WHOM IT IS ADDRESSED
---
HOW TO PARTICIPATE IN LIVE STREAMING:
The workshop will be live streamed through the GoToMeeting platform, number #1 in learning, conference and webinar services.
We chose GoToMeeting to foster and maintain direct contact with the speaker, as in classroom training courses.
All you need to participate is an Internet connection. A high-speed connection will allow for better performance.
An e-mail address is required for each participant. Inveo will use this address to send an e-mail with an invitation link to the course, operational instructions for access, and the course materials in electronic format.
Once you have made your payment you will receive all the instructions and how to access the room via email.
TEACHING MATERIALS:
Work materials will be emailed prior to the start of the workgroup.
WORKGROUP QUALIFICATION:

Online Final Examination
Certificate of Competence, upon passing the final examination
Certificate of Attendance, in case the final exam is not passed.

The link to the final test will be sent at the conclusion of the course to the email provided during registration
---
ONLINE WORKGROUP REGISTRATION
October 26, 2022

AMOUNT AND METHOD OF PAYMENT

300€+VAT 22%*