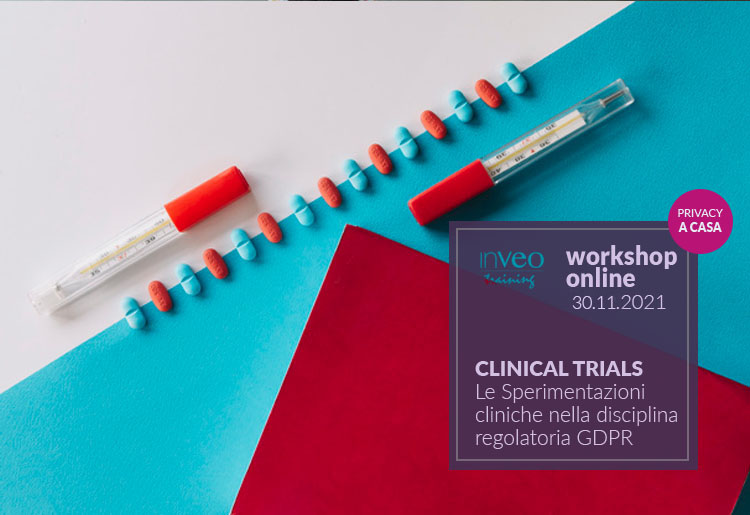 CLINICAL TRIALS IN THE GDPR REGULATORY FRAMEWORK
START TIME 10:00 | BREAK TIME 13:00-14:00 | END TIME 17:00
THE WORKSHOP

What changes on January 31, 2022 with the entry into force of Regulation (EU) 536/2014 on clinical trials and the Clinical Trials Information System (CTIS)?
The primary focus of the workshop is to update and analyze aspects of the appropriate legal bases in the context of clinical trials and secondary uses of clinical trial data for scientific purposes.
An excursus within the rules governing scientific trials through the magnifying glass of the European Data Protection Board's Guidelines 7/2020 and Opinion 3/2019. A 'mirror analysis between GDPR 679/2019, general authorizations of the Privacy Guarantor, Legislative Decree 101/2018 and EDPB Guidelines.
How to interpret the new provisions? How to distinguish levels of consent? How to classify privacy roles in clinical centers? What is the relationship with ethics committees?
A minefield: The Healthcare field is a high privacy risk area; database management, paper and electronic storage of patients' health-related master data, and the processing of special data, such as clinical trials. The collection, circulation, and storage of multiple pieces of information pertaining to the health and, in some cases, the sex lives of people involved in clinical trials present various aspects of criticality with reference to the protection of personal data and therefore require the adoption of high precautions aimed at preventing specific risks to data subjects.
The 6-hour ONLINE Workshop, on the GoToMeeting platform, will give tools and answers to any consultant or professional involved in pharma and health care.
THE PROGRAM

Excursus Regulation (EU) 536/2014 (CTR)
Privacy roles in the trial: Sponsor, Experimental Center, CRO
Role of the DPO
Consent or legitimate interest? Interference by ethics committees
Exercise of rights
Balance of interest
Security management in CROs
Dpia
---
TO WHOM IT IS ADDRESSED
Internal Auditor
Data Protection officer
DPO
Personal Data Processors
Legal Offices
Manager
LECTURER:
Riccardo Giannetti: Scheme Owner & Training Manager Inveo srl
---
HOW TO PARTICIPATE IN LIVE STREAMING:
The workshop will be live streamed through the GoToMeeting platform, number #1 in learning, conference and webinar services.
We chose GoToMeeting to foster and maintain direct contact with the speaker, as in classroom training courses.
All you need to participate is an Internet connection. A high-speed connection will allow for better performance.
An e-mail address is required for each participant. Inveo will use this address to send an e-mail with an invitation link to the course, operational instructions for access, and the course materials in electronic format.
Once you have made your payment you will receive all the instructions and how to access the room via email.
TEACHING MATERIALS:
Course materials with course slides will be emailed in .pdf format prior to the start of the workshop.
THE QUALIFICATION OF THE WORKSHOP:
Online Final Examination
Certificate of Competence, upon passing the final examination
Certificate of Attendance, in case the final exam is not passed.
The link to the final test will be sent at the conclusion of the course to the email provided during registration
---
ONLINE WORKSHOP REGISTRATION
Dates being planned
Durata: 6 ore - Target: Professionisti privacy a 360°
Location: Online
VIEW DEATILS
Durata: 6 ore - Target: Professionisti privacy a 360°
Location: Online
VIEW DEATILS