HUMAN RESOURCES. THE ONLINE WORKSHOP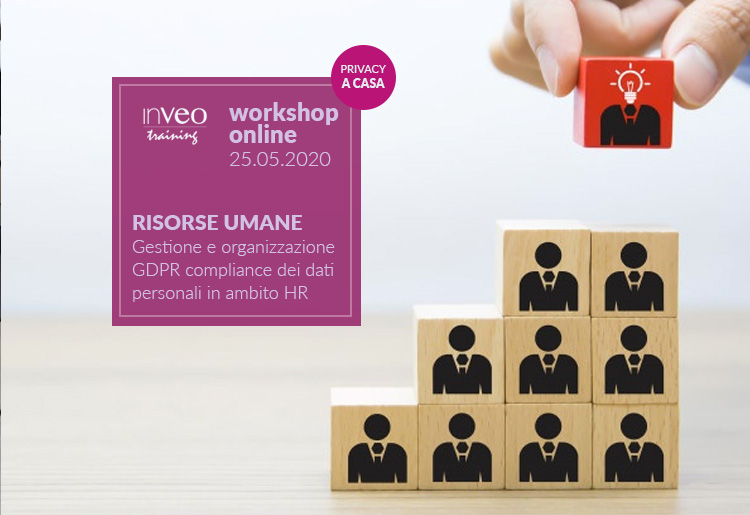 MANAGEMENT AND ORGANIZATION GDPR COMPLIANCE OF PERSONAL DATA IN HR
25.05.2020
START TIME 10:00 | BREAK TIME 12:30-13:00 | END TIME 15:30
THE WORKSHOP
How can I manage employee data? What is the correct way to manage and maintain the documentation pertaining to personal data in human resources? When and how should it be stored? What are the best practices in an interview? What is changing in smart working? And can the new contact tracing apps be used?
Search and selection, management of disclosures, workplace surveillance, appointment letters, data storage, how to manage, regulatory references and more in the online workshop dedicated to the world of human resources.
A world of personal data.
The 5-hour ONLINE Workshop, on the GoToMeeting platform, will give tools and answers on how to do this to be compliant with GDPR.
THE PROGRAM
Regulatory reference
GDPR art.88 processing in the field of work
Privacy Code 2018
Workers' Statute Law 300/1970
Personnel recruitment and selection
The disclosure
Disclosures and resumes
Smart working
Data processing in the interview
Exercise of rights
The data breach
The notification of the violation
The appointments of employees and contractors
Training of employees
Geolocation and new apps
Access to and custody of employee data
Dismissal or termination
Contracts with third parties
Video surveillance
TO WHOM IT IS ADDRESSED
HR
Internal Auditor
Data Protection officer
DPO
Personal Data Processors
Legal Offices
Manager
LECTURER:
Riccardo Giannetti: Scheme Owner & Training Manager Inveo srl
---
HOW TO PARTICIPATE IN LIVE STREAMING:
The workshop will be live streamed through the GoToMeeting platform, number #1 in learning, conference and webinar services.
We chose GoToMeeting to foster and maintain direct contact with the speaker, as in classroom training courses.
All you need to participate is an Internet connection. A high-speed connection will allow for better performance.
An e-mail address is required for each participant. Inveo will use this address to send an e-mail with an invitation link to the course, operational instructions for access, and the course materials in electronic format.
Once you have made your payment you will receive all the instructions and how to access the room via email.
TEACHING MATERIALS:
Course materials with course slides will be emailed in .pdf format prior to the start of the workshop.
THE QUALIFICATION OF THE WORKSHOP:
Certificate of Attendance
---
Durata: 6 ore - Target: Professionisti privacy a 360°
Location: Online
VIEW DEATILS
Durata: 6 ore - Target: Professionisti privacy a 360°
Location: Online
VIEW DEATILS