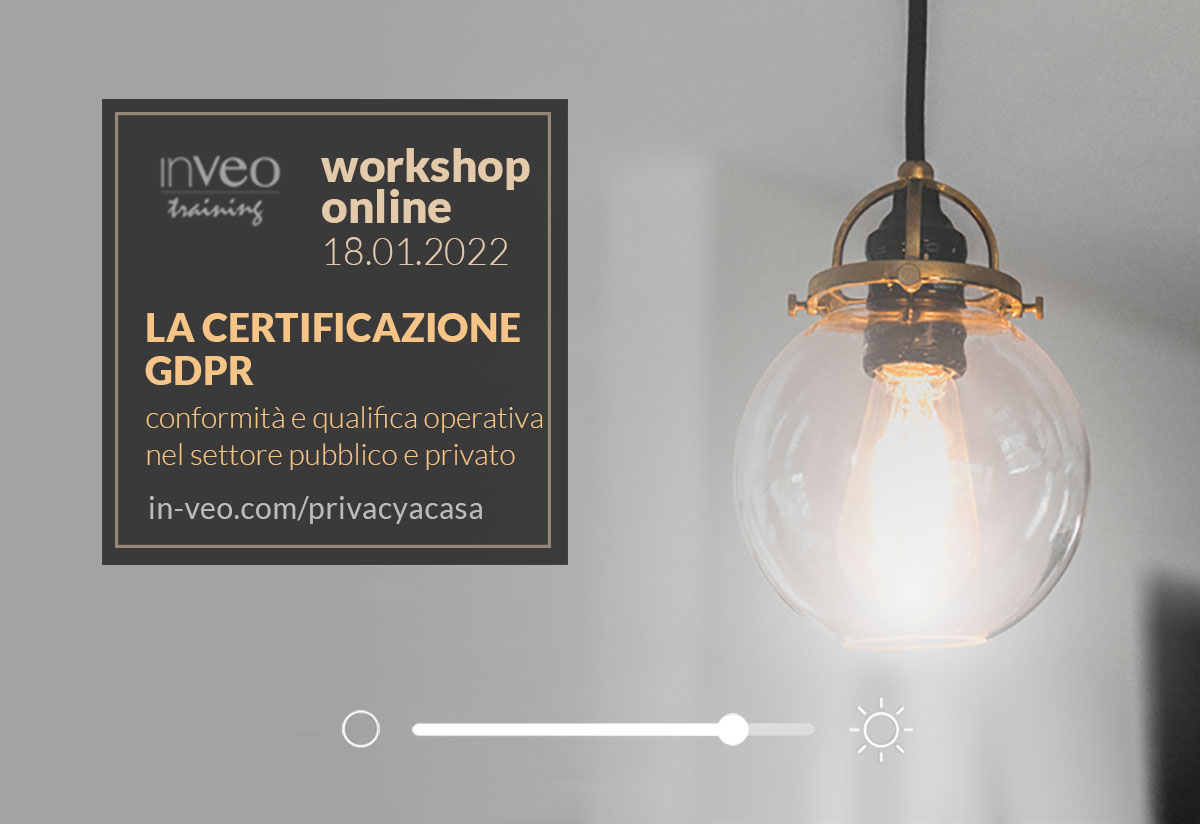 COMPLIANCE AND OPERATIONAL QUALIFICATION IN THE PUBLIC AND PRIVATE SECTORS
START TIME 10:00 | BREAK TIME 13:00-14:00 | END TIME 17:00
THE WORKSHOP

What is GDPR certification? What can I certify under Article 42? What certifications are available?  What are the benefits of certification on my work and business? 
With the release of guidelines/ FAQs on Accreditation and Certification under the GDPR by the Data Protection Authority and Accredia, an important piece has been put in place to improve the understanding and use of a tool called out and encouraged by the GDPR.
Certification as a tool for Accountability, which concerns all types of organizations (Owners and Managers) that want to optimize their internal privacy management system or their products and services delivered according to European regulations and demonstrate their accountability through the voluntary adoption of a system of analysis and control of data protection principles and reference standards.
The 6-hour workshop is a vertical journey into the logic and process of certification, a process of compliance and adaptation, to empower participants to understand its mechanisms and fully evaluate its applicability.
THE PROGRAM

The certification under Articles 42 and 43
What is certifiable for GDPR
Certification of products and services
Certification of management systems
Certification of people
Resolution 148, Additional accreditation requirements for certification bodies
The impact of and adherence to the GDPR
International certification schemes
Specific and nonspecific certification schemes
ISO vs. GDPR
The certification process
---
TO WHOM IT IS ADDRESSED
DPO
Manager Privacy
Managers
Legal Offices
Privacy specialist
Internal Auditor
ISDP Auditor©10003
Consultants
Privacy Expert
Privacy Specialist
Security Manager
Security Consultant
Data controllers
Legal
HR manager
LECTURER:
Riccardo Giannetti: Scheme Owner & Training Manager Inveo srl
---
HOW TO PARTICIPATE IN LIVE STREAMING:
The workshop will be live streamed through the GoToMeeting platform, number #1 in learning, conference and webinar services.
We chose GoToMeeting to foster and maintain direct contact with the speaker, as in classroom training courses.
All you need to participate is an Internet connection. A high-speed connection will allow for better performance.
An e-mail address is required for each participant. Inveo will use this address to send an e-mail with an invitation link to the course, operational instructions for access, and the course materials in electronic format.
Once you have made your payment you will receive all the instructions and how to access the room via email.
TEACHING MATERIALS:
Course materials with course slides will be emailed in .pdf format prior to the start of the workshop.
THE QUALIFICATION OF THE WORKSHOP:
Online Final Examination
Certificate of Competence, upon passing the final examination
Certificate of Attendance, in case the final exam is not passed
The link to the final test will be sent at the conclusion of the course to the email provided during registration.
---
ONLINE WORKSHOP REGISTRATION
Dates being planned
Durata: 6 ore - Target: Professionisti privacy a 360°
Location: Online
VIEW DEATILS
Durata: 6 ore - Target: Professionisti privacy a 360°
Location: Online
VIEW DEATILS